Why the Everest Base Camp trek?
"Because it is there." – George Mallory, when asked why he wanted to climb Everest.
There is only one highest place on the planet Earth, and it is in Nepal at the end of the Everest Base Camp trek. The journey to see Everest from the top of Kala Patthar will consist of majestic views, vibrant culture, and camaraderie among fellow travelers, climbers, and trekkers. Life is a collection of experiences and this is one not to miss.
See: Day 14: Everest Base Camp
The Everest Base Camp Trek starts from Lukla in the Sagarmatha National Park of Nepal. The basic trek is generally easy days with the main obstacle being the elevation. The Three Passes adds difficulty and a less traveled route. For the trekker who likes to be even more adventurous, beginning the trek from Jiri is the ultimate. Starting from Jiri also gives a taste of simple Himalayan mountain life outside the tourist trail from Lukla.
For a day by day trip report from an experienced trekker who accomplished the Jiri / Three Passes / EBC Trek in 20 days, I encourage you to read the whole blog beginning in Katmandu.
Everest Base Camp Trek Cost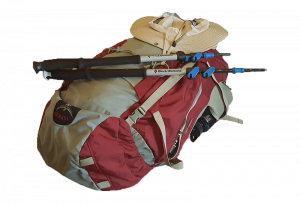 For a complete list of Gear you will need for your trek, see:
If flying into Lukla, the cost of the flight will be $160 one-way. If coming in from Jiri, you can avoid one leg and instead take an $8 bus ride. Once on the trail, there will be various levels of lodges and food available, but generally the cost will be low, much lower than you'd spend for food in Kathmandu even.
My costs were about $850usd, I'd say minimum would be somewhere around $500, $400 if you walked out.
Costs are per person based on traveling in a group of two. Though that only truly matters at lodges where upgraded rooms are available. Most lodges have spaces for single travelers.
Car to Jiri: shared $40 (Bus $8)
Lodges and food:

Namche: 3 days @ $45 (splurged on room)
Jiri – Namche: 8 nights @ $15/day
Lunches/snacks: 20 days @ $5/day
Three Passes / EBC : 11 days @ $25/day
Flight out from Lukla: $160

Intangibles:

Cold gear in Namche: $25
Battery Charges: $30
Physical Preparation
Even the basic Everest Base Camp trek from Lukla will involve steep uphill climbs and long days of trekking. Be sure to train before arriving in Nepal. You will thank yourself for it and enjoy your trek more.
More tips on Physical Preparation
Guide or No Guide?
As soon as you step foot in Thamel, the foreigner district of Kathmandu, you will be advised to hire a guide and/or porter for your journey. You may even be told it's very dangerous without a guide. While this is entirely up to you, know that you are never more than about 5 hours from some sort of lodge where help can be found on the whole journey, and almost everyone speaks English. The trails are easy to follow and signs pointing the way exist. A guide or porter is completely optional.
Travel Insurance?
Again, something that will be pressed on you from blogs to the permit office. A helicopter from Everest Base Camp to Kathmandu will run you around $5,000. One to Lukla, which is more likely to alleviate altitude sickness runs $2,500. A porter(s) to carry you that distance will run $200-$500. Insurance costs $180. I didn't buy it. The choice is yours.
Why the Three Passes?
Choosing to climb the Three Passes of the Khumbu region of Nepal around Everest is for those who are more fit and would like to add a more adventurous element to their journey. Besides the views you will experience on top of the passes, the lodges off the main EBC trail have a different flavor with travelers and climbers more likely to be engaged with the surrounding beauty rather than just knocking off the EBC bucket-list.
Three Passes allows you to get closer views of Ama Dablam, Cho Oyu, Island Peak, as well as setting you straight across massive glaciers flowing down from Everest itself. The beautiful lakes of Gokyo and the farming communities west of Namche provide a closer look at the region.
See: Day 13: Kongma La
Why from Jiri?
While most travelers fly into Lukla, the traditional, and cheaper route is to hike an extra week in from Jiri. The Jiri trail travels over several mountain passes and down into peaceful farming communities where more of a taste of simple Nepali mountain life can be experienced.
Additionally, it provides a more gradual increase in altitude as well as time to better adapt to the arduous climbs in the Himalayas. You may enjoy the days trekking to EBC and the Three Passes more since your body will be fitter and less likely to succumb to altitude problems.
See: Day 3: Lamjura Pass