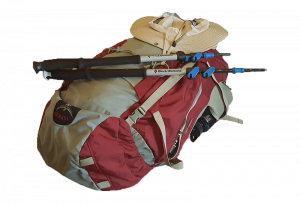 This Everest Base Camp (EBC) trek gear list is a complete list of the gear I successfully completed the journey from Jiri over the Three Passes and stopping at Everest Base Camp.
My trek was made in May during the height of the Everest climbing season. It is also a warm and reasonably dry time of the year.
The Three Passes and Everest Base camp trek is not a trek to disrespect, but in the end, it's just hiking, don't overthink it. You are not back country hiking, you will never be more than a couple hours from help, and never more than a day from a place to buy gear you decide you need.
See Itinerary / Tips / Info on EBC Trek.
Read Full Trip Report from an experienced trekker who accomplished the Three Passes / EBC Trek from Jiri in 20 days. Or read whole blog starting in Kathmandu.
Items – Go Light!
Mandatory
Your Choice
Optional
Clothing – Leave Home the Cotton
Sweat, snow, and cotton don't mix well. Wear synthetics and wool. These are the items I brought, but this list should only be used as a guide. If you are making the trek in December, the heavier clothes will be more important, and if in May like my trek, the heavy coat can be left at home.
The trek from Jiri to Namche and the trek above Namche will be in two different conditions and requiring different sets of clothing. Nepal is about the latitude of Florida and receives a good amount of moisture from the Indian ocean so below 10,000 expect tropical conditions – hot and sticky. Above Namche, the mountains reduce some of the moisture and the air gets cooler.
Warm gear
Cold gear
Rain gear
Shoes to suit most conditions
If you are an avid hiker, you probably already know what you want to wear on your feet. I wouldn't change that just because you are going to the Himalayas. However, keep in mind you will be crossing snow fields, and unless you plan to sit out every rain shower, you will be getting your feet wet.
I wore Merrill Moab Waterproof, which I changed from my normal Merrill Moab Ventilator. They are comfortable shoes for long treks.

Whatever shoes you decide on, make sure to hike a little in them beforehand to adapt your muscles (ie break them in).
For lodges and side trips, flip-flops, sandals, crocks, or light shoes depending on your taste.
As for the Three Passes, I found my Moabs more than sufficient. I believe it more likely to encounter conditions where step cutting would be required before any kind of icy conditions. As for micro-spikes, it was weight that didn't seem necessary. Besides, imo, if you are you crossing a pass and you don't need crampons, you don't need micro-spikes.

Phone Battery Solutions
There are always options for charging your electronics. I brought a large battery as I wanted to track the hike with gps and keep notes. From Jiri to Namche, I found the lodges more liberal with their electricity. In Namche, I got the battery fully charged and didn't need to charge it again until Gokyo.
Passing time with Nepal e-books
You'll be surprised at your downtime. Unless you are traveling with good company or are overly extroverted, you'll need something to read. Be sure to download them to your phone before you leave!
More Info
See Itinerary / Tips / Info on EBC Trek.
Read Full Trip Report from an experienced trekker who accomplished the Three Passes / EBC Trek from Jiri in 20 days.