For Kala Patthar day, you have two options. The first is to stay in Gorek Shep for another night. The second, and I believe better choice, is to ascend early and then leave for Lobuche or further. Depending on your fitness level, Kala Patthar itself is not a hard climb and can be knocked out in as little as an hour. If you've acclimated well, and you have plenty of energy, it's not an all day affair.
Trek date: May 13, 2017
Kala Patthar day and a whiteout
My alarm woke me at 5am and I looked out the window to see a blanket of fog. Oh sure, just our luck.
My initial reaction after my long day in Everest Base Camp was not to chance a grueling climb just to stare at clouds, which I'd done plenty of in Chukhung, and so I curled back up in my sleeping bag.
Fortunately, Bryon had left to talk to the group, who said they believed the fog would lift and were going to push on. I said farewell.
So, for thirty minutes, I laid in my sleeping bag fighting sleep. Did I really want to skip another high point? Stay in my bed while my friends climb a mountain to look at clouds? I finally decided it just wasn't in my nature to turn down climbing a mountain, and I jumped out of bed, downed some coconut crisps and rocketed toward Kala Patthar to catch my friends… in a whiteout.
I was climbing like a possessed man, I don't know where I found that energy, the body can certainly amaze you when it wants to. As I looked up and saw some breaks in the sky, I noticed the distinct peak of Everest and Lotse (or Nuptse), and realized there was a low layer of cloud being pushed through the valley that could easily be burned off by the rising sun. I desperately wanted to reach the top before it cleared.
Kala Patthar summit and waiting for a view
For an hour, we waited on the peak with our heads craned toward Everest, hopes built and dashed with each passing hole in the clouds. Even if the skies had never parted, I would have included that time as one of the best on the trip, comradery with friends met in travels with a single-minded interest.
But… the morning didn't end with a descent through whiteout. The skies around us cleared leaving one stubborn cloud sitting on top of the glacier obscuring a perfect view of Everest, and as that cloud was slowly torn apart by the valley winds and morning sun, Everest shown through like a God announcing his presence to the world. We sat in awe at the climax of our trek.
She was not finished dazzling us, however. "Is that a rainbow?" asked Jo.
It appeared a bit of a halo was bouncing off Everest's shiny peak, and as the sun tore open the blue sky, a full double halo appeared around it as if being lifted by Everest herself.
"It's so beautiful! Do you see how vivid it is?" screamed Jo, who was laughing and screaming hysterically in joy.
I laid back on a slab of rock and gazed at the most wonderous sight I'd ever seen. To think I almost stayed in my sleeping bag.
Memorials and friends
Back at the lodge and packed up, I made a terrible mistake to eat only toast. Partly to be quick and partly because I was still scared of the food at Gorek Shep. We were back in Lobuche by noon on a what turned out to be a perfect day. Maybe we should have stayed longer.
In Lobuche, I again left the group after discussing visiting the Everest Memorial. It did not seem to be of any interest to the group, but was a can't-miss for me. So again, I set out alone, using every ounce of energy I had to cover ground, so I could catch my group again later.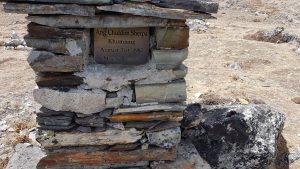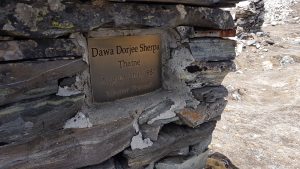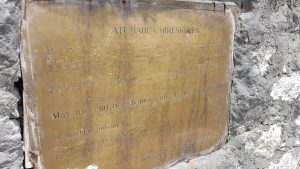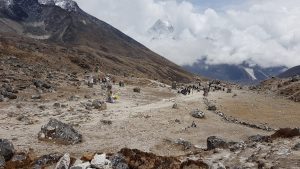 As with most cemeteries, each memorial seemed to receive different levels of care. I'd expected most of the memorials to be for fallen climbers from foreign lands, I guess due to a bias I didn't know I had. I found a majority of the memorials, especially the well-cared for ones, to be for Sherpas. For the first time, it struck me, the devastation the industry of Everest had wrought on the local population, and I felt guilt as I paid homage to the fallen.
Finally, on the far end, I stopped at the memorial of American Scott Fischer, who I had read about leading up to the trip. He was a guide who perished in the 1996 disaster, though typically only a side note as all of his clients made it off the mountain alive, indeed, his whole team made it, except for him, and some speculated that he didn't make it because of the extra trip he had made through the icefall a day before summit day to get an injured climber to base camp. He had used up his energy taking care of others and when the storm hit and there was no one to look after but himself, his body failed him. Then again, maybe I'm being dramatic.
"Wow, what a ride," was the words his friends thought he'd say about his life and death. Reference: Mountain Madness.

I was nearing his age and was yet to get such a ride out of life, but I wasn't going to stop seeking it
On to Zonglha
As the sun began sinking behind the regular afternoon rush of clouds, I noticed the silhouette of a group of trekkers traversing the slope of the mountain opposite the memorials, and I expected it was my group as the normal EBC trek route forked off behind the memorials. Only Three Passes groups would be going that direction.
With a huge effort, I bounded off across the valley and began to scale the slope. It was a steep yak trail and sapped what energy I had left until I slowed down and began making a steady pace and eventually caught up with the group only a couple miles left to Zonglha.
Zonglha is the last group of lodges before the Cho La to Gokyo and our next destination.
Falling in line, we made Zonglha and caught up with the Kiwis and also the lone Australian from before Chukhung who said her guide had dissuaded her from traversing the Kongma La. I shook my head. Guides are there to get you where you want to go, not tell you what you can and can't do. The reality is… they probably just didn't want to be patient for a slow trekker, who could have still made it.